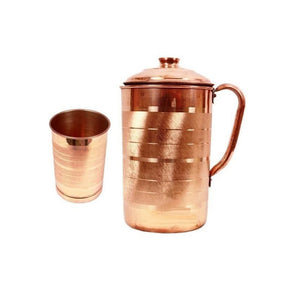 Copper Serving Jug With Copper Glass.
-Elegant And Attrtactive Design- It has a classy look and attractive design which makes it perfect for use in Hotels Home Restaurants. It can also be used as a gift item for both men and women
-The best remedy to overcome these problems is to store water in a copper utensil overnight and drink four glasses every morning.
-Copper helps in maintaining digestive health. It therefore helps in regulating obesity.
-REDUCES WEIGHT, JOINT PAIN & IMPROVES DIGESTION
- Water stored overnight in Copper Vessel helps in reducing weight, prevents obesity, reduces joint pain, maintains good digestion & make your life healthy.
Materail: Copper
Capacity: Jug: 1500 ML, Glass: 300 ML
Pacakge Contains: 1 Copper Jug and 1 Copper Glass
Delivery: Within 6-8 business days
Return: Within 5 days of delivery. Free return.Full refund.
---
Copper Serving Jug With Glass Price List